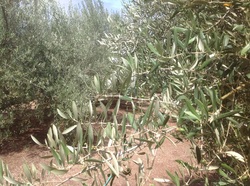 I am a little behind with this blog, spring time, early summer - so much to do.
You can see a few olives forming on the branch. This branch is doing better than most of the rest of the orchard. It looks like this will be the third low harvest year in a row. Perhaps I need to pick up my fertilizer game.
Olive Fruit fly counts on 27 May were 30 and 28 on the 3rd of June.
Watering ever 4 days now, six hours. AT 25 gpm that equates to 9,000 gallons or 15,750 gallons/week.
Planted 4 rows of corn on 24 May and 2 rows on 3 June, 120 seeds/row. The germinations rate looks a lot better now that the soil has warmed up.