Homestead Olive Ranch
The Homestead Olive Ranch is a small farm in California's San Luis Obispo County with a small grove of olive trees and spacious vegetable gardens. The olive varieties are mostly Mission with a few Leccino olive trees. These are harvested by hand from late October to early March allowing us to produce several quite different oils. It all depends on the weather but in a good year we will harvest the Leccino olives and a few of the Mission trees in November, sometimes as early as October. That will give us a nice robust Early Harvest Mission oil and a milder Italian style oil. The Early harvest Mission is a really leafy green and grassy oil, loaded with polyphenols, one of the main reasons extra virgin olive oil is so superior to any of the seed oils. This oil stands up to any full-bodied recipe. The Leccino oil is a much more fruity and fragrant oil suitable for the milder recipes. This year, 2016, presented some challenges. Getting a harvest crew was difficult so rather than two harvests we had four because the crews were so small. We harvested Missions on Oct 23rd, Nov 19th and Dec 3rd. The Leccino harvest was Oct 30th. The three Mission oils are quite different, surprisingly the Oct and Nov oils are both very green and grassy and the Dec oil is much smoother. The Leccino oil is very different; the usual comment from tasters at Farmers Market is "Wow that oil is so different!".

This years oils, harvested October - December 2016 were again award winners. The Early Harvest Mission won a gold medal at the California Mid-State Fair in Paso Robles. The Late Harvest Mission took a silver there as well as a gold medal at the New York International Olive Oil Competition, the largest olive oil competition in the world. The good news is that competition offers the winning oils for sale on their web site. To order our Late Harvest Mission, go to "nyoliveoil.com" and click on the tab "See the Winners", then click the tab "United States" then the "Mission" tab, it is one of six. They send me a shipping label and I send it to you.

We often blend our oils to fit a particular flavor profile people want. Adding some of the Leccino oil to the more robust Mission oil makes an oil that balances the desire to have the full-bodied oil as well as the pleasant fruitiness of the Italian varieties in one oil.

Our main products are extra virgin olive oils but after growing things in our garden since 1978 and having so many successes by treating the soil right we couldn't help but offer a few other products at the local Farmers market; sweet corn, garlic, shallots and walnuts.



Where to find our oils
Homestead Olive Ranch oils are found* at these California locations:
Atascadero Farmers Market, Wednesdays 3-6 PM, Smart & Final Parking Lot, 8200 El Camino Real, Atascadero
Templeton Farmers Market, Saturdays 9-12:30 Templeton Park, 6th and Crocker Templeton
Natures Touch Nursery and Harvest, 225 S. Main St., Templeton
Wild Horse Winery 1437 Wild Horse Winery Ct., Templeton
Le Cuvier Winery 3333 Vine Hill Lane, Paso Robles
​*Not all locations carry all of our oils, contact us to find who has which oil, or better yet, stop at the Atascadero Farmers Market on Wednesday or Saturday, meet Bob and try all of this years oils.

Contact us
Our ranch is on Homestead Rd. in Templeton, California.
Phone us @ 805 610 5917
E-mail: bob@homesteadolive.com
---
Frequently Asked Questions about Olive oil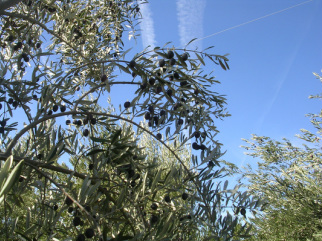 Why is good olive oil sometimes bitter? An oil that has a peppery/bitter taste is an indication that it has lot's of polyphenols, strong antioxidants that have a host of beneficial effects.

Can I fry with extra virgin olive oil? Good extra virgin olive oil is an excellent choice for stir frying and deep fat frying because it's smoke point, 410 degrees F, is well above the ideal temperature for frying (365 degrees F). Bad olive oil has a low smoke point and is unsuitable for frying among other things.

My recipe calls for butter can I use extra virgin olive oil instead? Absolutely, use ¾ of the amount of butter called for in the recipe. Ex. ¾ cup olive oil in place of 1 cup of butter. One place olive oil will not work well as a substitute for shorting such as in a pie crust. There are recipes for making a pie crust using olive oil but the crust will be crumbly instead of flaky.

How long will extra virgin olive oil last? A good extra virgin olive oil will last for at least 18 months if kept in a dark bottle, in a cool place out of the light. A pantry shelf is a good choice. Olive oil should be used within three months of opening. The stronger the oil is(more polyphenols) the longer it will last.

What dishes go with strong, robust oils? Use these oils for bruschetta, for pasta dressed with nothing but oil, garlic and cheese. For strong salad greens such as spinach, arugula and watercress. Strong oils go with the stronger flavored dishes.

What dishes go with mild oils? Milder oils go with mild meats such as chicken breast. They compliment tender new lettuces, fresh peas and mild cheeses. Mild oils go with the milder flavored dishes.

---
Sustainability
A fundamental principle of our ranch is sustainability. We want the soil our olives grow in to be teeming with microbial activity. Something that can only happen if we allow the bacteria, archaea, fungi, protozoa and earthworms to work under a blanket of chemical free mulch and compost, something we liberally apply. Great soil makes great olives, great olive makes great olive oil, what could be simpler? That's the way it has been done since the time of the ancient Mycenaeans.